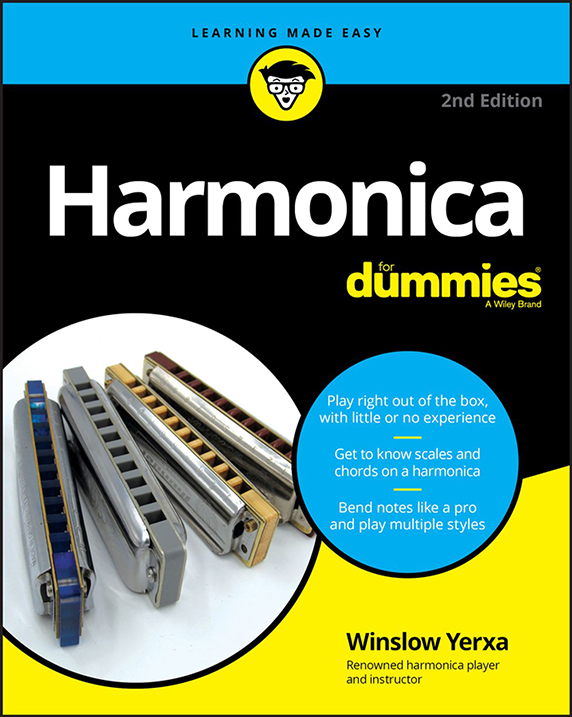 From the Back Cover
Learn to:
Play right out of the box, with little or no experience
Create exciting rhythms and make that wonderful wailing sound
Bend notes like a pro
Play along with harmonica songs online and hear the sound you're going for
Make music with the harmonica using this fun and easy guide!
Even if you've never gotten your hands on a harmonica, this easy-to-follow and friendly guide makes it possible—and easy—to start making those unmistakable, signature sounds straight out of the box. Packed with tips, tools, and instructions, Harmonica For Dummies will have you playing all kinds of musical styles on this instrument in a flash!
Start your harmonica experience — find expert guidance on shopping for a harmonica, making your first sounds, finding the key of a song, and exploring rhythm basics
Craft your skills — start playing chords and single notes, shape your sound with your throat and hands, enhance your notes with your tongue on the harp, and bend notes down and up
Take position — discover how positions help your playing, develop flair and speed, master new songs, and start playing along with music to master your skills
Find your style — whether it's blues and rock, country tunes, or fiddlin' the night away with folk and Celtic songs, discover the many musical styles you can play on the harmonica
Put it all together — put your music out into the world with guidance on arranging and adding vocals to your tunes, working with a band, and amplifying your sound
Open the book and find:
Guidance on counting time
The scoop on relaxation, breathing, and rhythm
Ways to combine chords and melodies
Develop a repertoire of tunes
The importance of practicing persistence
The secrets of playing overblows and overdraws
How to use effects to alter a harmonica's sound
Tips for maintaining and improving the performance of your harmonicas

Harmonica For Dummies
About the Book
Everybody loves the sound of a harmonica, and the thought of learning to play one is even more appealing. The instrument's portability, versatility, and affordability make it a great choice for those interested in learning how to produce the unmistakable, signature sound found in many styles of American music. With Harmonica For Dummies, you can learn to master the harmonica faster than you ever thought possible, even if you have little to no playing experience. This easy-to-use resource is filled with tips, tools, and instructions that will have you playing in no time.
In Harmonica For Dummies, you'll find an accessible format designed to help you access new techniques, songs, and styles of playing. Accompanying digital content and interactive tools will help you learn the nuances of playing harmonica and give you the know-how to use this versatile instrument to its fullest potential.
Provides you with a high-quality, comprehensive instructional manual
Instructs you with detailed instructions and tips to help you learn to play quickly
Written in a clear, easy-to-understand format complete with accompanying audio/video content
Helps you improve your playing and embrace the many musical styles that have made the harmonica an iconic instrument
The harmonica is a very accessible instrument, but only those with the right instruction and direction will be able to experience the joy of using it for accompaniment and solos. Let Harmonica For Dummies guide you through the learning process and make you a harmonica expert in a flash!
Praise from Readers
Great beginners resource
I haven't played in decades but have been coming back, and this book is an excellent guide. Not emphasizing blues, it gives enough information to get you with a solid foundation. Good online support with play-along music. It probably takes you to what I think of as lower intermediate levels. Grab this book and a good harp in the key of C, and you will be ready to go.
By Walter Holt on December 14, 2020
Excellent book for us dummies
This is an excellent book for learning the harmonica. I also have the "Harmonica Primer Book" which is a good book, but this one goes into more detail. For example, the other book gave a brief description and video of doing bends but I was not able to accomplish it based on that example. This book goes in to greater detail with the video. In addition this book explains how to bend notes using the tongue block method which the other book did not go into. The other book only explains the lip puckering technique which I had a problem with (I always was a tongue blocker). This book explains both methods and the extra details in the video helped me learn to lip pucker. There is a lot of detail of reading music (which I already knew) which would help beginners. Overall the extra work on the details used in the videos to explain techniques really helped me learn the things I couldn't grasp in the other book. Highly recommend this book.
By Terry Norman on January 6, 2021
Not a dumb book!
Love books for Dummies but I am no dummy for buying this book. It was a smart move!
By Rosemary Pundsack on April 6, 2021
Well thought out
Well laid out and easy to skip over sections you may not need. The videos are very helpful.
By Jean on March 11, 2021
A Comprehensive How-to, Highly Recommended
I've stood at bookstore shelves reading harmonica method books for 50 years or so (there were fewer back then) and I never thought I could really learn anything from them. Then I saw Winslow Yerxa's name and I recognized it from a forum I post at. I took a look and wow! From beginner to advanced, he has ideas, techniques, and tips for every player. The detail and precision of his teaching, especially on technique is outstanding. Details of learning to manage one's mouth, lips, tongue, and oral cavity are invaluable. I've played a good while, and I learned a lot. I highly recommend this book.
By Joe Phillips on October 4, 2021
"…truly well-written…"
"This book is truly well-written. It is crystal clear, follows a progressive course of instruction from end-to-end without any out-of-place interruptions, has no errors that I've been able to find, and actually covers more than most beginning players really want or need to know initially (e.g., playing in other than the first and second positions)."
By New England Yankee on January 22, 2009
"…concise, easy to understand…"
"Winslow is one of the most highly respected members of the nation's harmonica community. He has forgotten more about harmonica than most of us will ever learn. Anyone interested in harmonica will not find a book with more information, and concise, easy to understand instruction, than this gem. If you have any urge at all to learn how to play this fascinating little instrument, this will be the best money you have ever spent."
By Steven R. Webb on October 10, 2008
"…brilliant how-to book…"
"Winslow Yerxa has written a brilliant how-to book for those looking to "make music" on the harmonica, or harp. This book is very clearly written, concise, has humor and it is just plain fun to sit down with. The CD with it sweetens the package."
By RBM on September 16, 2010
Harmonica For Dummies, Second Edition
Harmonica For Dummies, Second Edition is now available with tons of great new stuff:
New In This Edition:
24 more pages (total of 384)
15 videos on harmonica playing techniques and repairs
18 real-time video animations of tunes, techniques, and exercises, showing lips and tongue moving on the face of the harp with breath direction
138 audio tracks (including 85 new ones)
All media available online to owners of the print or ebook editions
New for Beginners:
Expanded support with fuller explanations and exercises
Playing exercises that teach you basic musical concepts
Improved help for learning to get a single note
More easy-to-play favorite tunes to help you start making music
New for Intermediate and Advanced Players:
Expanded coverage of tongue blocking techniques
Completely new rock and blues repertoire
Stronger focus on rock in addition to blues
Mostly new folk and gospel repertoire
Completely new fiddle tune repertoire
Repair Slant:The new Second Edition of Harmonica For Dummies has a chapter on basic harmonica repair (mostly unchanged from the first edition) but adds VIDEO showing some of the most basic repair and improvement procedures, including disassembly/reassembly, basic reed gapping an alignment, and tuning.